As an editor-turned-product guy living in a mobile world, I often like to recall the simple years. We (editors, that is) pretty much had it our way. Reporters did what we wanted, the audience was an afterthought. It was a nice life, except for ads that intruded on a story's word count or a designer's handsome layout. Then came digital, with unique visitors, page views and banner ads. Suddenly, the newsroom elite faced accountability. The audience mattered, so did ads. Enter the world of smartphones, with limited "attention real estate" and "dwell time." Editors, like it or not, must accept that mobile is changing their jobs again. In fact, it may alter the course of journalism like never before.
One of my recent posts tracked the lifespan of three FORBES stories across desktop and mobile devices. The charts I used caught the attention of Jonah Goodhart, co-founder of Moat, an advertising and content analytics firm used by our sales team. Jonah knows the Web business. He and his brother, Noah, and their partner Mike Walrath, started Right Media, an ad exchange that Yahoo bought in 2007 for $850 million (in the small world department, we shared common office space a year later when I founded True/Slant). Jonah used his tools to dig deeper into the consumer behavior behind the three posts. I chatted with him to put context to the Moat charts below.
Attention real estate: This chart shows the average "dwell time" for the three posts across devices when a browser tab is open and in action. Moat is measuring up-scrolling, down-scrolling, scroll depth, the length of the page, scroll velocity (pixels per second) and other cursor movements. Consumer attention spans appear to be shorter on mobile, limiting dwell time. That's not necessarily a "negative," Jonah believes. Yes, he says, mobile content attracts a smaller "slice" of an individual's time, but more people using mobile devices means more aggregate time spent on smartphones and tablets (see chart at bottom). There is opportunity here if journalists develop new story constructs for less attentive mobile readers. Marketers can benefit, too, with more integrated, well-written messaging.
Viral vs Long Tail: This chart shows page views over a week for the post titled, Employees Who Stay in Companies Longer Than Two Years Get Paid 50% Less. Social sharing on mobile devices drove strong initial traffic. Notice the blue line, average time spent on the post, remained remarkably consistent. Clearly, attention is not correlated with the viral nature of a post, volume or page views. In other words, it's news if it's new to me.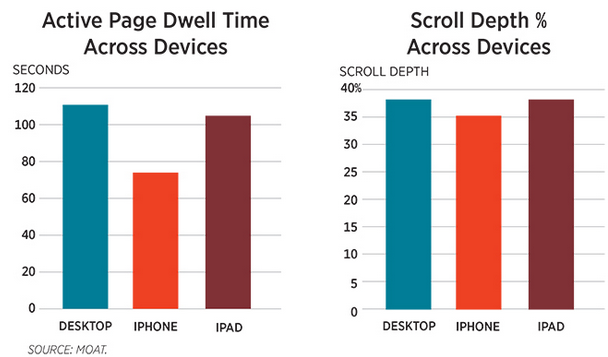 Scroll Depth: This chart is in line with most data that shows desktop and tablet consumption are quite similar. Take a look at iPhone dwell time vs iPhone scroll depth (it's also for the Employees Who Stay In Companies Longer post). Consumers did spend less individual time on the post, but did make their way down the mobile screen. That makes it important for product teams to look beyond the device — to the actual person. Different consumers will likely react positively to different mobile screen experiences. Some may want only images, others just headlines. Many might engage only with video. That requires both personalized screen experiences and targeted stories.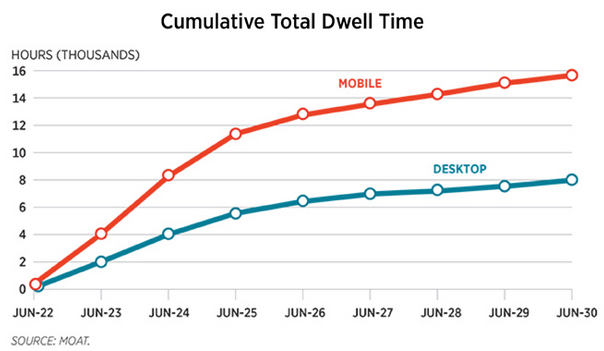 Mobile Exposure: This chart looks at cumulative mobile vs desktop dwell time for the same Employee Who Stay In Companies Longer post. It's another way to look at our mobile future: more people, more often with less session time still means loads of aggregate attention.
As we wrapped up our call, Jonah offered what was, to me at least, one of those ah-ha moments. "Mobile is a new world of behavior, not just a form factor to fit content into." That made me recall the news industry's initial reaction to online content in the 90s, when it viewed a desktop page as merely a container for traditional print stories. We should have all learned from that lesson. If not, here are two statistics to keep front of mind. Last week, Facebook said mobile accounted for 62% of its advertising revenue in the second quarter, up from 41% a year earlier. A day earlier, Apple said iPhone sales rose 12.7% in the quarter ended June 28, while iPad sales fell 9% — and that came after a 16% drop in iPad sales the previous three months. Like I said, journalism is changing again.
By Lewis DeVorkin for Forbes. This article was republished through NewsCred's Licensed Content Network. 
Originally published on Jul 29, 2014 3:45 PM