It seems that digital content marketing trends move at the speed of a click, swipe, or tap. So as we close out another year, we turned to marketing professionals for their predictions on what 2016 might bring, and what we'll be focusing on less.
Among the most important to-do list items that were written about around this time last year included moving toward a more streamlined content strategy that integrated social media, bigger budgets for creating content, and better quality content all around. All of that remains true to some extent, along with a few more pressing issues.
In 2015, 88% of marketers stated that loyalty and engagement were their top priorities of the year, and 50% said that measuring content's effectiveness was their biggest challenge It was truly a year of not only creating great content, but figuring out how to measure and benchmark it. It's no surprise that content marketing companies turned their focus, then, to the channels where it's relatively easy to measure content's performance.
According to a Smart Insights survey, 93% marked social media as the most popular content marketing tactic in 2015, followed by eNewsletters and website articles at 80% and 78% respectively. 2015 also saw the proliferation of content marketing platforms, major changes (yet again) to Facebook's algorithm, the introduction of Instagram ads, and, it's safe to say, greater buy-in across the board from leadership for content marketing budgets to increase – likely as a result of these monetization and content marketing benchmarking efforts and tools. So, what's on deck for content marketing in 2016? According to Rebel Mouse founder Paul Berry, speaking at a recent TechWeek event:
"The change isn't coming, it's here. There's a lot of panic around this change, because it's really big."
This goes for the way we will treat distribution platforms, audiences, the place of content marketing within companies, and pretty much everything.
Then what will content marketing companies be most focused on in the next year? Which platforms will thrive, and which will we leave behind? Here are our top predictions for 2016 content marketing, based on 2015 data and trends as well as insights from top content marketers.
1. Traditional Ads Will Be Ad-Blocked Into Obscurity
The reaction against advertising has taken on a new life "as a cultural movement," said Berry. This is why content marketing is more important than ever. Director of Product and Engineering at the Washington Post Jarrod Dicker says that marketing that's not invasive, but beneficial, is here to stay in 2016:
"Ad blocking technologies speak volumes to what consumers have been saying for a while. What we're doing now is the right way to connect advertisers to consumers."

Genuine content that gets in the feed consistently will take over flat ads. Sing "Bye, Bye, Bye" to your banner ads once and for all, please. The quality of creativity and stories told will need to pick up the slack. Veteran marketer and cofounder of AdPulp David Burn furthers this point, saying in regards to content marketing:
"I predict I will not be alone in calling it something else. We're not marketing content. We're telling stories that matter."
2. Facebook Will Keep Marketers Scrambling
Facebook's seemingly Citizen Kane-like strategy over the last two years has been a slow burn toward becoming the only distribution source to turn to for publishers and brands. According to Digiday, Facebook traffic to top publishers has fallen a whopping 30% since January. With the introduction of Facebook instant articles, this has become all the more urgent. Consumers are being trained to expect the information on products and events to be waiting on their feeds: "We used to Google it, now we just expect it to be the top thing in our feed," says Berry. Rather than thinking of this with a sour face, publishers and brands should take the opportunity to see what they can contribute. "It's going to be awesome. It presents a new paradigm and problems and opportunities."
3. Content Marketing Processes Will Streamline
According to content marketing consultant Rebecca Lieb:
"The content stack will continue to evolve. Rather than hundreds of point solutions, marketers will soon be able to look to one-stop solutions for their content marketing needs that incorporate most (if not all) of the eight content workflow scenarios. This will simplify processes and enable tighter integration with earned and paid media."
The recognition of crappy software and a shift toward investment in content marketing platforms that streamline the process and improve ROI (like NewsCred's Software) will also have a big impact in 2016 and beyond.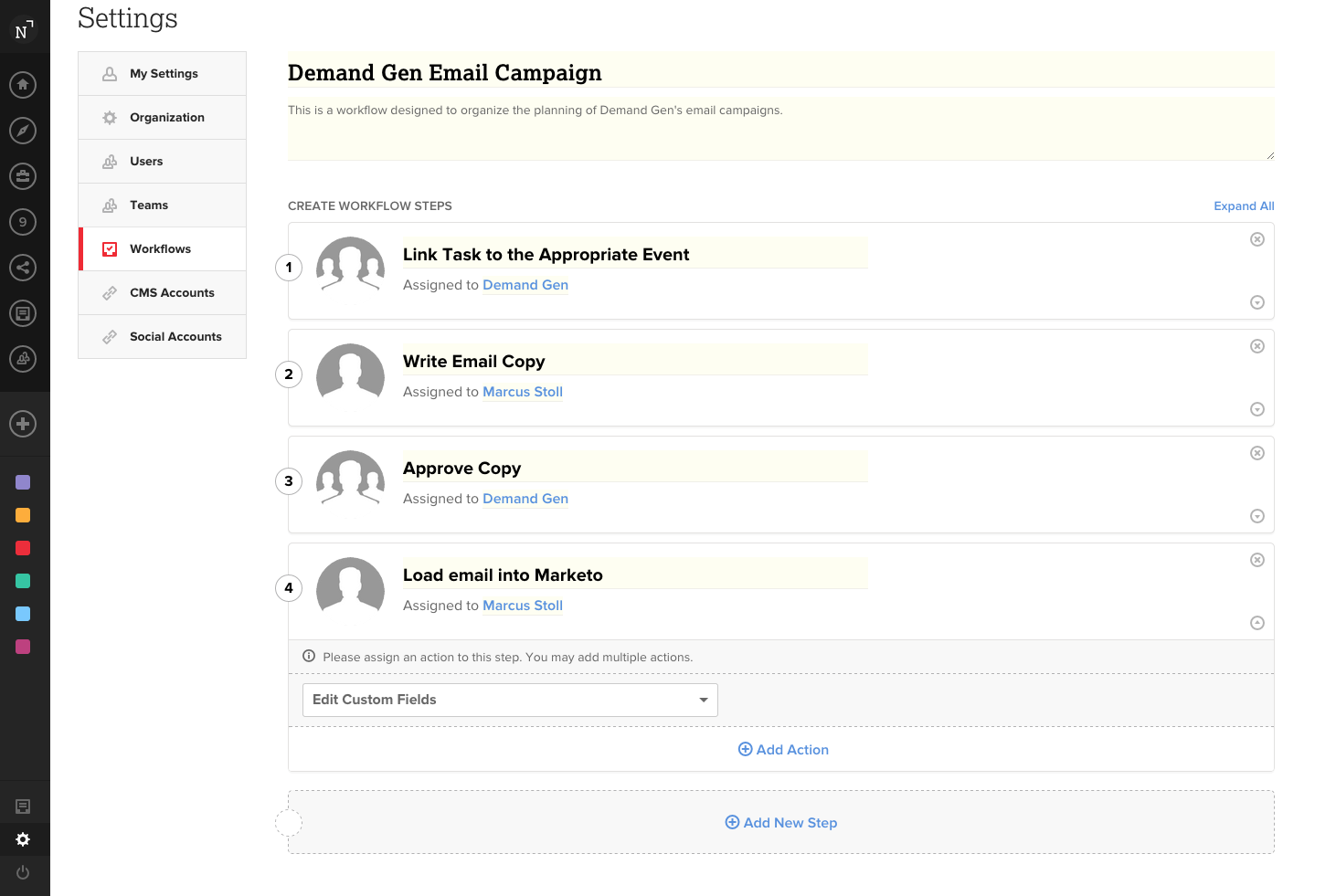 4. Lines Between Creatives And Analysts Will Blur 
Smart marketers will finally catch on to the fact that they are shooting themselves in the foot by not sharing data across their teams and functions. JD Kostman, CDO for Time Inc. says that all of these need to work together harder in 2016: "Data is the most important part of the conversation, but it's not IT. Content creators forward the story more effectively." He also urges that brands and publishers, "stop thinking of data as proprietary," especially internally. Sharing numbers with the creative team allows for the combining of forces, sharing of best practices, and ultimately, content that is the best mix of genuine and data-driven.
5. Social Becomes About Focus
Gone are the days of "conquer them all, all at once!" social media marketing. Focus is in. Brands and publishers will take a better look at which social media channels their audiences are actually on, rather than trying (and failing) to do everything. When it does make sense, they'll make sure they're executing in a way that plays on the platform's strengths. Says Kate Ward, Editor-in-Chief of Bustle: "We have a millennial audience and want to make sure we're reaching people wherever they are and how they want to be reached." EVP Marketing & Content Patrick Yee, of the native and social media content juggernaut that is Refinery29, says that the brand is focused on "engineering dedicated on single platforms, and on creating assets not on other platforms." On the B2B side, First Round Capital's Camille Ricketts recently told Flipboard:
"That's one thing I'd really urge a lot of content marketers to look at: where they're having the most success. Instead of trying to make that happen elsewhere, just double down and almost get rid of the other choices…A lot of people were saying why don't you have Pinterest and a bunch of these other channels—really, it's just a focus thing."
6. Content Marketing Meets The C-Suite
Says Lieb, "Enterprises will begin to hire more senior executives to oversee content initiatives. If 2015 was the year of the content manager or director, 2016 will usher in VP and higher roles. Content is not a channel, it's related to all advertising, marketing and communications initiatives. As such, it requires senior, strategic oversight – something companies are coming to recognize." Rebelmouse's Paul Berry agrees, "Brands now have to hire managing editors who report to the CEO," which will empower them to execute on their initiatives in a creative, data-driven manner that is linked not only to the marketing function, but to overall business goals and thus revenue increases.
2016 looks to be a year of the further maturation of the content marketing field. It's all grown up, now, with its own attendant platforms, C-Suite positions, and investment from senior leadership. Where will we take it in 2016? And, furthermore, beyond? It's bound to be a mix of the principles we've now established, as well as those now beyond our imaginations. "Changes are coming faster and faster," says Berry. "A year from now there will be a new word that none of us use now."
7. "Watch" Out for More Mobile
It's been a long time coming, but mobile will officially take the throne in the coming year (despite probably being featured in every "prediction" piece dating back to 2012). "In 2016, organizations will need to do more to leverage mobile moments in the customer journey," says Bob Egner, VP of product management, Episerver, a digital experience cloud platform. While most brands have moved their big screen experience onto smaller devices, he says that's not enough to engage the mobile consumer.
In other words, brands won't think of mobile as a separate endeavor, but as the centerpiece of their overall digital marketing strategy, says Mike Wong, director of marketing for PicMonkey, a photo editing website.
"Figuring out how to tie mobile app usage with usage in other channels such as social, email, site and in-store will be critical for future success," he says.
Don't think it's only phones and tablets that marketers need to focus on. "As Apple Watch and other iterations proliferate (undoubtedly there will probably be a lot gifted this year over the holidays), many organizations will be inspired to think about how best to leverage the digital watch footprint and Internet of Things when refactoring and remapping content to customer journeys as a whole," says Egner.
8. Content "Narrowcasting" Becomes Necessary 
In 2015, we saw more content clutter than ever before as many brands tried to dip their toes in the content waters. As a result, consumers have grown more and more weary of all the noise. So what's a content marketer to do moving forward to break out and get noticed? Keep it simple, says Gabriela Vega, director of public relations at TransMedia Group.
"Keep focusing on narrowcasting rather than broadcasting. We absolutely have to get to know our niche audience, and go back to conversations and one-on-one marketing. We must listen to understand, rather than to respond," she says.
"The period is your best friend is what I like to tell my peers. We not only have to be great storytellers, but we have to be very succinct," she says. Incorporating more visual content will help, as will moving away from gimmicks.
9. A Guided Customer Journey
"Digital Assistants – experiences like Cortana, Siri and Ok Google – will become the standard for a desired customer experience," says Boaz Amidor, Head of Marketing and Corporate Communications at WalkMe, an online user experience platform. He explains that customers expect to be driven in a simple way to the result that is most relevant to their needs and history. "Digital marketing in 2016 will be geared towards creating this kind of contextual proactive engagement with the target audience. It's not about only delivering the most relevant call-to-action. It's about delivering the call-to-action, and then immediately carrying the prospect step-by-step in the easiest way possible, until the deal is sealed," says Amidor.
To help guide consumers along their journey, content marketers will need to become more mindful about creating content for the entire sales funnel, and use data and insights to learn more about the customer's journey. As Vision Critical's SVP of Marketing Nick Stein stated in a NewsCred interview this year: "We really need to provide [customers] with all kinds of different entry points to learn about us at the highest level, which is thought leadership that engages people, all the way through to content geared to how a particular product or solution can help them achieve whatever their goals may be."
10. Brand Producers Will Think Vertical
As more and more brands try to gain an edge, they're looking into creating content for messaging apps like SnapChat, which recently launched its brand-centric Discover channel. "The re-imagination of what advertising should be on our phones is a key area to grow, and that includes things like messaging apps to potentially become the browser for the Internet in the future," said Tom Goodwin, SVP of Strategy and Innovation, Havas Media, in an interview with NewsCred.
As such, marketers will also start to think vertically, that is, creating content that can display more naturally on a mobile screen without the consumer having to turn the device on its side. Check out Tastemade's explanation on how it produced some ShapChat content for Coca-Cola:
11. SEO No Longer As We Knew It
"If it hasn't happened already for marketers, the 'keyword-first' approach to SEO will get left behind and be fully-replaced with a content and customer first approach," says Wong.
Add to that the fact that if Facebook instant articles and other in-app content takes off and gets introduced to the masses, it has the potential to make Google search rankings less relevant since they won't be the only game in town. That being said, the most important SEO strategy you can continue to have is to produce relevant content that addresses your customer's key concerns and interests, keeps them on your site, and answers their questions holistically.
Additionally, 88% of mobile time spent is now in apps and that mobile use is only increasing yearly. Christian Ward, Yext EVP, foretells a "massive change" in 2016 for a future state in which "whatever the best answer should be is what you get presented with when you ask your phone a question. Not hidden in an app you don't have, or a browser you won't use." This is the year to prepare to pivot.
12. Outdated Content Marketing Metrics Will Get The Boot
An ongoing challenge will be how to accurately measure content marketing ROI, but marketers will learn from past mistakes including: using just one set of metrics for all your content; expecting a direct connection between content and ROI; and analyzing numbers with no context. As tools and platforms become more robust and streamlined, brand marketers will finally be able to measure content marketing ROI and how their efforts are paying off.
In summary, 2016 is shaping up to be another exciting and fast-paced year for digital content marketing. With new consumer apps and devices, improved collaboration between marketing and tech, but way more content competition, success will come down to the ability to listen to your audience to give them tailored content at the right time and in the right way. Focusing on strengths when it comes to channels and content is how content marketers will truly stand out.
Dawn Papandrea + Lauren B. Mangiaforte are NewsCred Contributors
Originally published on Dec 15, 2015 11:00 AM