You don't have to sell candy or costumes in order to capitalize on a successful and viral Halloween content marketing campaign. As these brilliant brands have shown, anyone can dress up their marketing to get in on everyone's favorite haunted holiday. Here are a few of NewsCred's favorites:
Tide's horrifying Halloween vines
Nothing says Halloween better than classic horror movie marathons. Tide captured that nostalgia perfectly last year with their brilliant Vine video shorts that recreated iconic scenes from our favorite fright flicks including Carrie, The Ring, and Psycho. Prepare to get scared stainless, or should we say, #scaredstainless! The brand scored over 97,000 views on YouTube, and kept the conversation lively on Facebook and Twitter.
Dress like Flo
When a brand becomes a popular Halloween costume, that's a sure sign of making it. As its done for the past few years, Progressive is once again encouraging its fans to "Dress Like Flo," and share their Flo costumes on social media using the hashtag #dresslikeFlo. Fans can make their own, or they can even buy the official Flo costume for just $39.99.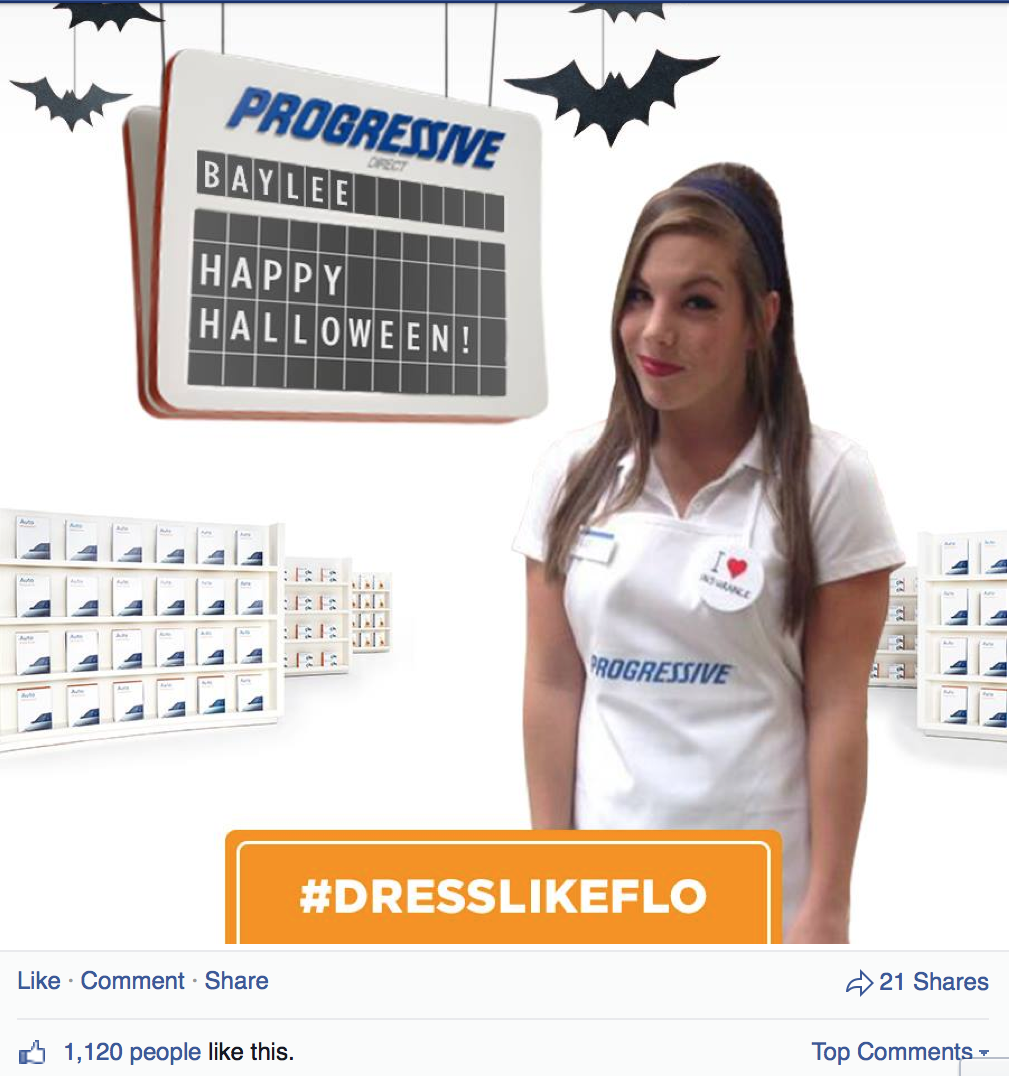 Back in 2012, the company reported to FastCompany: "Impressions on Twitter were in the millions and the campaign got more than 20 percent engagement, according to Progressive. The company's website also saw a boost in traffic, although Progressive wouldn't provide specific stats." And what could be better than having a legion of Flo wannabes walking around as brand ambassadors, even if it's just once a year?
Petco's "Make a Scene" Halloween photo contest
Speaking of dressing up, it's hard to top pets in costumes if you want to take your brand viral, which is why Petco's Halloween photo contest last year was killer. The 2013 contest was held on Facebook, with the winner receiving a $25,000 cash prize and Petco gift cards for runners up. "By holding the contest, Petco hopefully increased their sales of pet costumes and increased online engagement with their brand 325% during the month,"according to an article on Addthis.com. This year, Petco is at it again, but this time, it's trying the contest out on Instagram.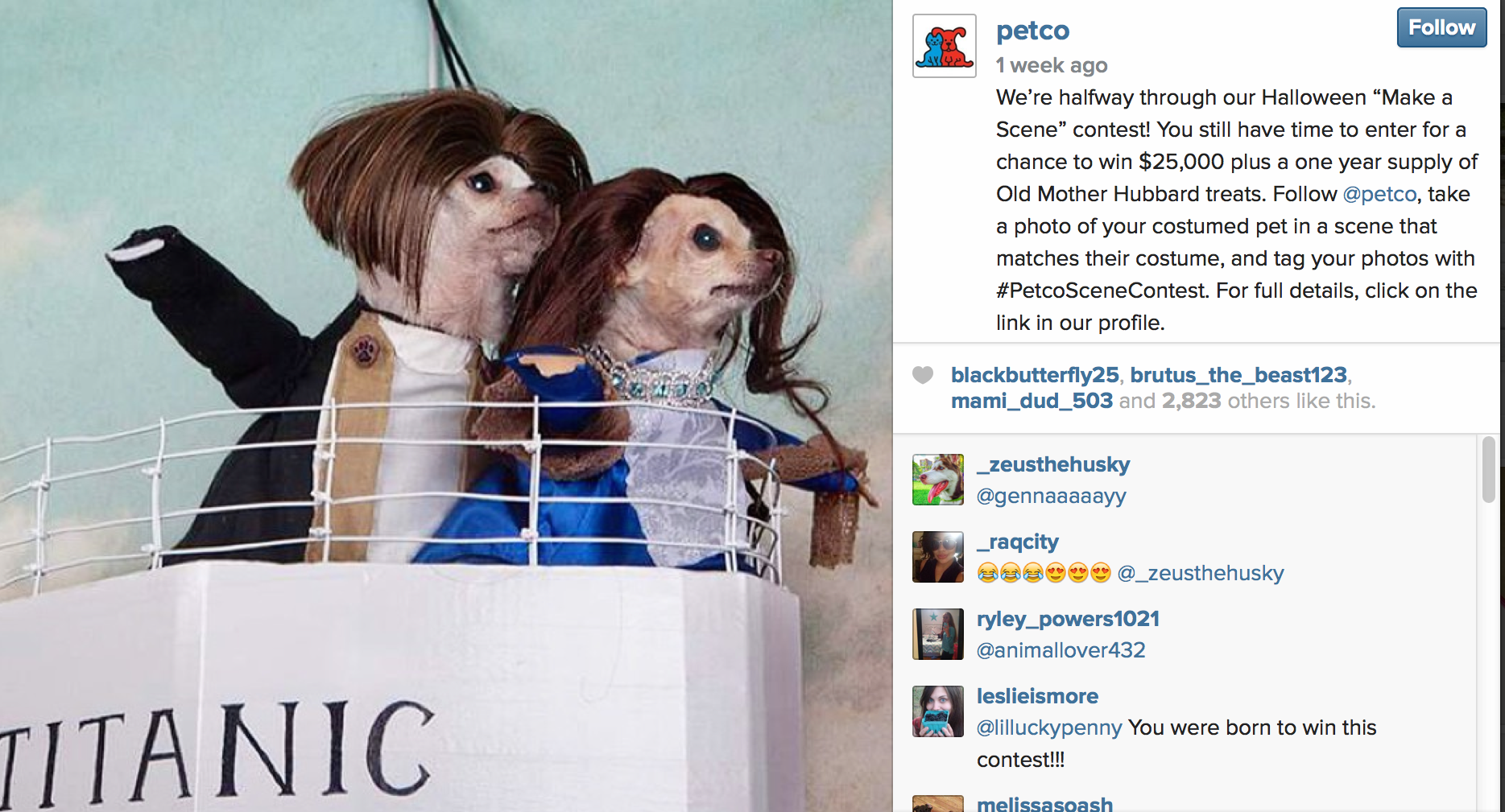 Crest and Oral-B's Halloween treats gone wrong
If you're thinking there's nothing more unrelated to Halloween than dental care, then you couldn't be farther from the truth. Punking kids is always viral gold, so when Crest and Oral-B set out to give costumed kiddies some healthy snacks in lieu of sugary sweets, hilarity – and tremendous brand lift — ensued. The entertaining video's tagline is "Nothing is more horrifying than Halloween without candy," followed by the only brand mention: "Thankfully, there's Crest + Oral-B."
According to its Shorty award entry page, the campaign was a huge success. With 7.3MM video views, a Facebook click through rate 11 times higher than its benchmark, 1.7 million coupon prints, and a +3 percent sales lift in only a four-week period, we'd say their clever trick turned out to be a viral treat.
Target's Halloween Hills
Another brand trying to turn Instagram into a social media spookfest this year is Target. AdAge points out the clever way in which the brand is using the photo posting site to create an interactive experience: "The retailer is transforming users' Instagram feeds into 'Halloween Hills,' a virtual neighborhood made up of taggable images that are displayed together. Each image has two homes – a trick and a treat – that take users to different profiles when they're tapped. The 'treats' link to Halloween-themed recipes like spider brownies, while the 'tricks' go to do-it-yourself projects like a spooky, night-light."
The gist is that the daily Instagram photos encourage fans to tag their favorite haunts, and afterward, they'll be given Target content aimed at helping them prep for their own Halloween fun. Engagement has included over 5,000 likes every day so far. If nothing else, the campaign has raised the bar for other brands looking to capitalize on Instagram's popularity.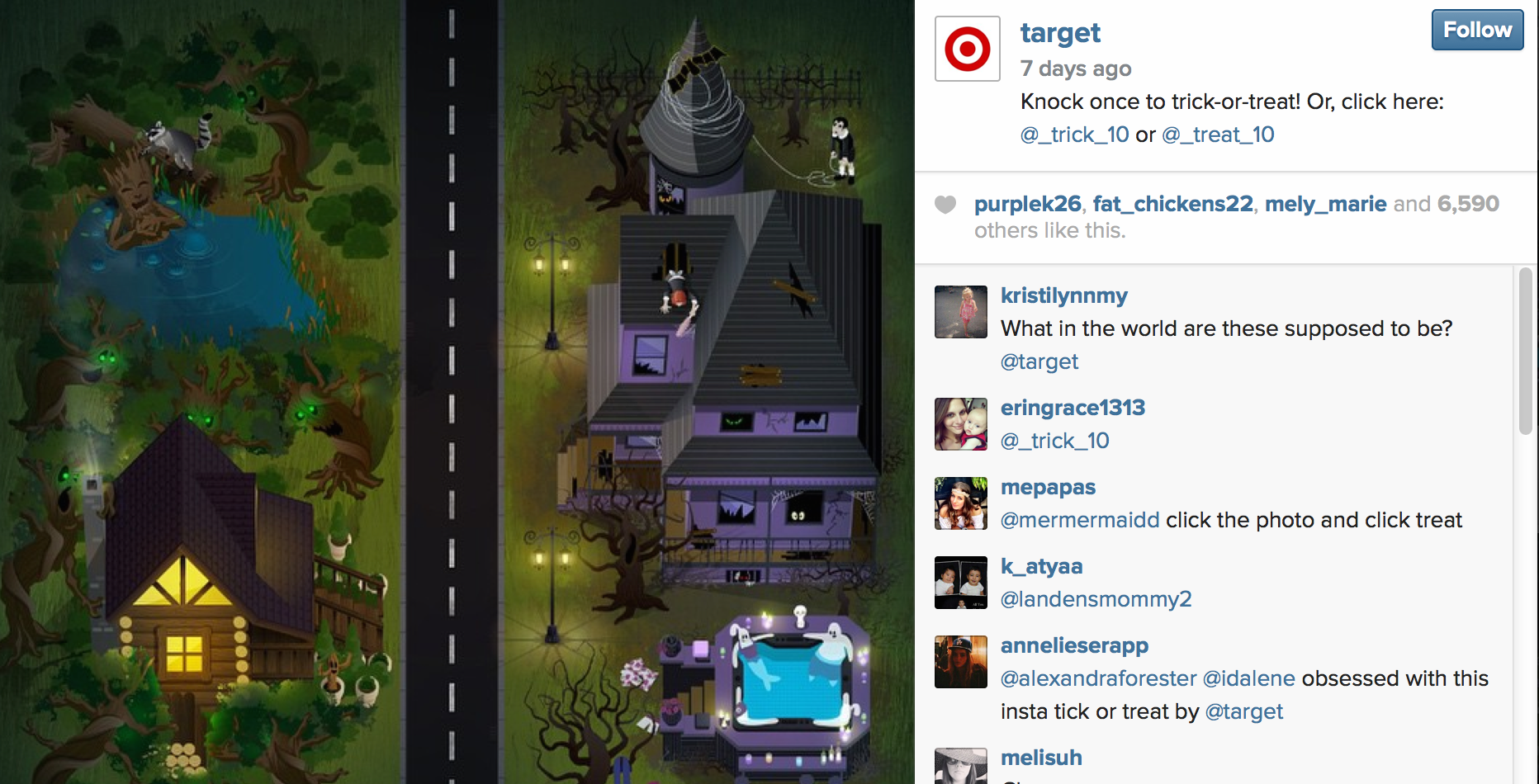 IKEA's Shining
Heeeeere's Ikea! As with Tide's Vines, Ikea proves once again that recreating Halloween scenes resonates well with horror movie fans, which is why its parody of "The Shining" garnered two million YouTube views in its first three days alone. What's cool is that the brand goes beyond just the creepy video by incorporating an IKEA Halloween Spot & Win contest on Facebook, too.
The CDC Zombie Guide
Even a large government entity found out that there could be value in adding some creep factor into one's content offerings. In this case, the Center for Disease Control's (CDC) Zombie Apocolypse campaign, which shared tips on emergency preparedness in a very ghastly way, caught on so well that it crashed the server, and brought in one million blog views to its Zombie blog. The accompanying novella had five million downloads as well. They even created eCards and buttons for users to share on social media. Way to think outside the box, er, coffin!
The "Devil Baby"
Picture yourself walking down a city street, when you spot an unsupervised baby carriage. You walk over and then suddenly, out pops the most hellish thing you can imagine – a devil baby! Just like that, a viral prank video was born (pun intended). The stunt was used to promote the film, "Devil's Due," this past January. Even though it wasn't launched during the Halloween season, its Exorcist-style scare level and Blair Witch Project-style buzz affords it honorable mention.
All it took was a few hidden cameras and remote-controlled stroller with a devil baby to capture the screams of unsuspecting passersby. That, folks, is how you make a viral video with over 48 million views.
From spooktastically smart to chillingly clever, these and other Halloween-inspired branded content campaigns are at every turn, just waiting to send chills (and a few laughs) up the spines of their fans.
Dawn Papandrea is a NewsCred Contributor. 
Originally published on Jul 5, 2014 10:22 AM, updated Sep 23, 2016